Spiritual Journey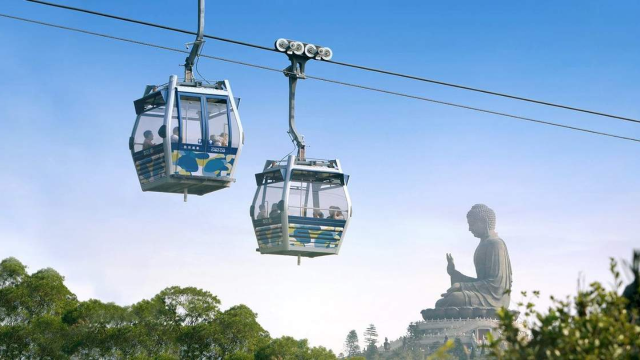 Ngong Ping 360
Your journey begins with a 25-minute cable car ride from Tung Chung to Ngong Ping Village. Give the amazing Crystal Cabin a try. Its glass bottom offers an astonishing bird's eye view of the magical deep blue sea and lush green mountainside underneath your feet.
MTR Tung Chung Station, Exit B. Walk for approximately five minutes to the Tung Chung Cable Car Terminal.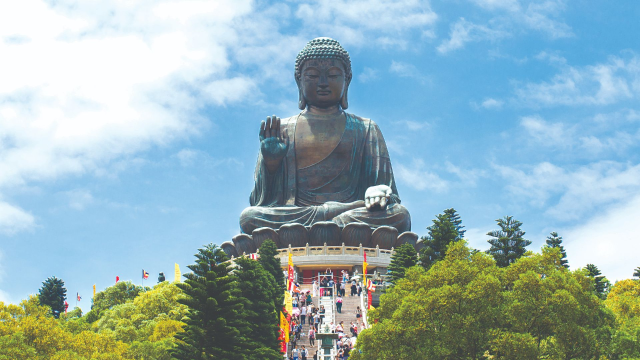 Tian Tan Buddha
The extraordinary Tian Tan Buddha is one of the tallest outdoor bronze Buddha statues in the world. The eyes, lips, incline of the head and position of the right hand are all crafted to deliver a blessing. Climb the 268 steps for a closer look at this remarkable statue, and to enjoy the sweeping mountain and sea views that can be seen from its base.
From Ngong Ping Village, walk for around 10 minutes to the statue.
Wisdom Path
The Wisdom Path connects a series of 38 wooden steles (upright monuments) containing verses from the centuries-old Heart Sutra, which is one of the world's best-known prayers revered by Confucians, Buddhists and Taoists alike. These steles are based on the calligraphy of famous contemporary scholar Professor Jao Tsung-I, and are arranged in a pattern that represents infinity.
Follow the signs to the Tea Garden, and then walk along the hiking trail from the Tea Garden entrance for approximately 15 minutes.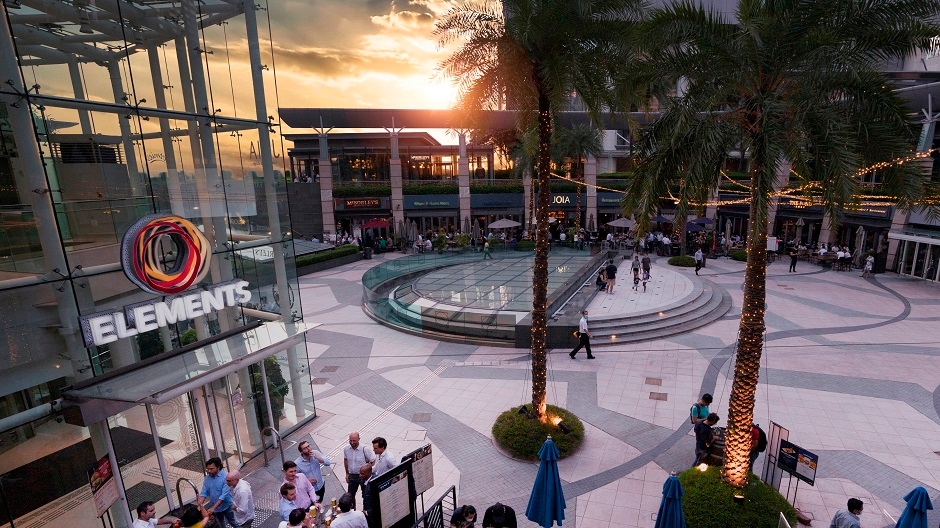 ELEMENTS
After a relaxing tour, enjoy a quality dining experience with friends. Whether you choose to dine indoors or al fresco, Civic Square at ELEMENTS is a testament to everything that makes Hong Kong a global culinary capital.
Take the cable car back to Tung Chung Cable Car Terminal, and then take the MTR from Tung Chung to Kowloon Station.
City Leisure Walk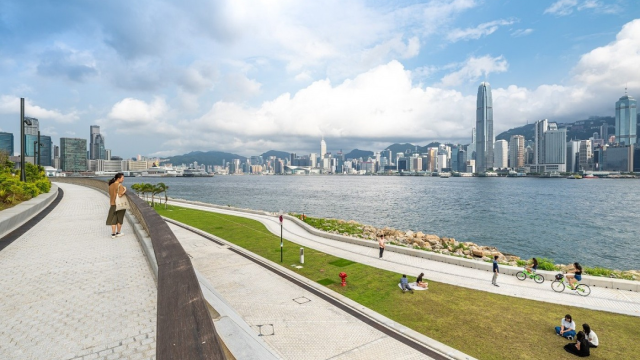 West Kowloon Cultural District
The West Kowloon Cultural District is one of the largest cultural projects in the world, seamlessly blending art and education in a series of major cultural facilities, namely the Hong Kong Palace Museum, M+ Museum, Xiqu Centre and Art Park. It also features regular cultural activities, making it the perfect destination for culture lovers.
Footbridge access from 2/F Metal Zone, ELEMENTS.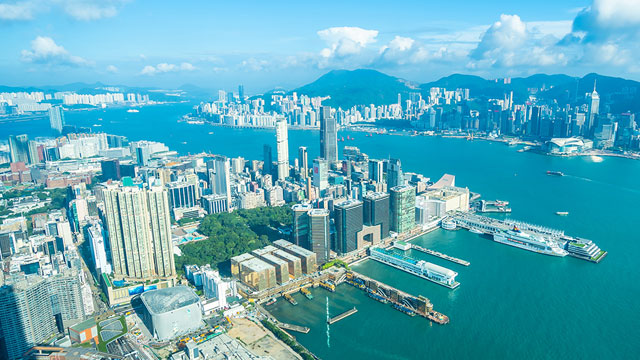 Sky 100 Hong Kong Observation Deck
Do you want to see a spectacular 360-degree view of Hong Kong? Located in the heart of Hong Kong, Sky 100 Observation Deck offers unparalleled views of the hustle and bustle of the city as well as the peaceful countryside that lies beyond.
Located at International Commerce Centre,above Kowloon Station.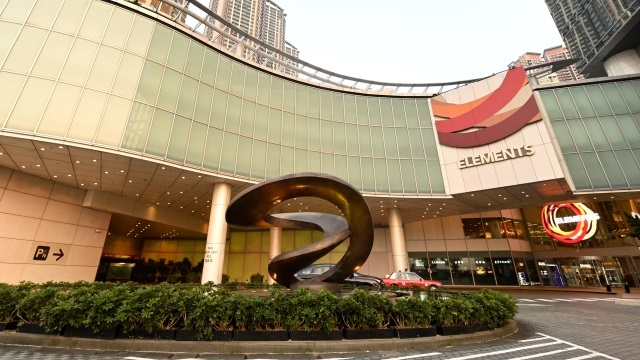 ELEMENTS
ELEMENTS is a comprehensive lifestyle destination conveniently located above Kowloon Station. It is the perfect combination of modern architecture, natural beauty, international chic and world-class shopping and dining, offering you Hong Kong's premier shopping experience.
Sky 100 Observation Deck is directly connected to ELEMENTS.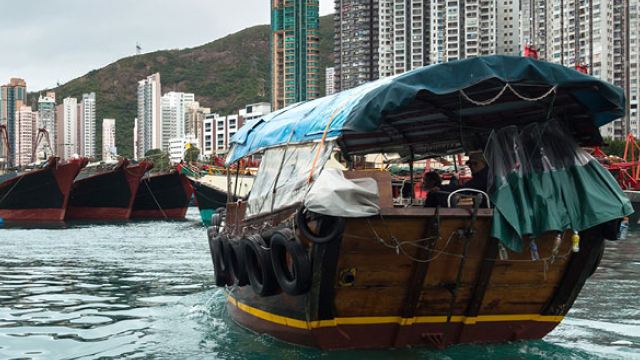 Aberdeen typhoon shelter
In Aberdeen, modernity meets tradition with skyscrapers overlooking a community living on traditional junks. The typhoon shelter on the south side of Hong Kong Island is also a popular seafood dining spot.
Go to MTR Hong Kong Station, Exit D, then take bus 70 from the Exchange Square bus terminus.
Family Fun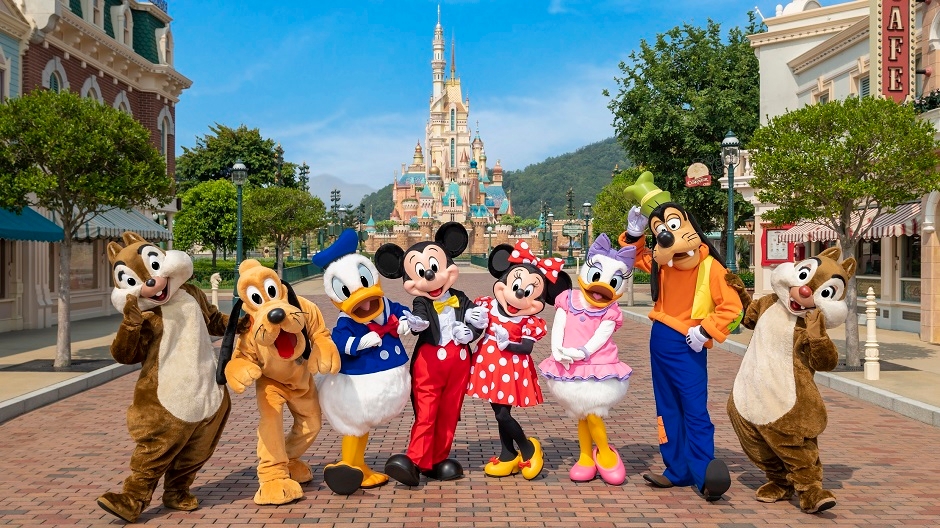 Hong Kong Disneyland Resort
Hong Kong Disneyland Resort offers unforgettable, culturally distinctive Disney experiences for guests of all ages and nationalities. Filled with your favorite Disney stories and characters, Hong Kong Disneyland offers guests the opportunity to explore seven diverse lands that are home to award-winning, unique attractions and entertainment.
Travel to MTR Disneyland Resort Station.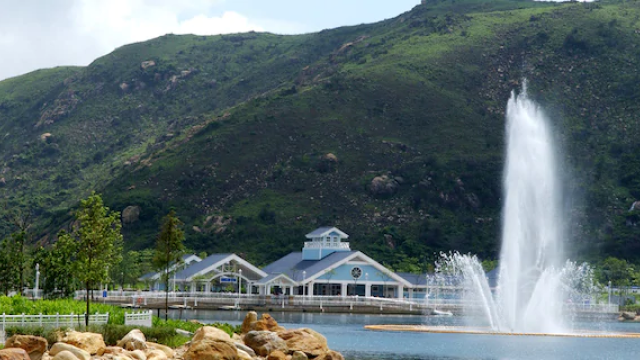 Inspiration Lake Recreation Centre
Enjoy a lakefront walk or pedal out into the calm, soothing waters of Inspiration Lake for an experience that will both relax and invigorate.
From MTR Disneyland Resort Station take bus R8 to Inspiration Lake Recreation Centre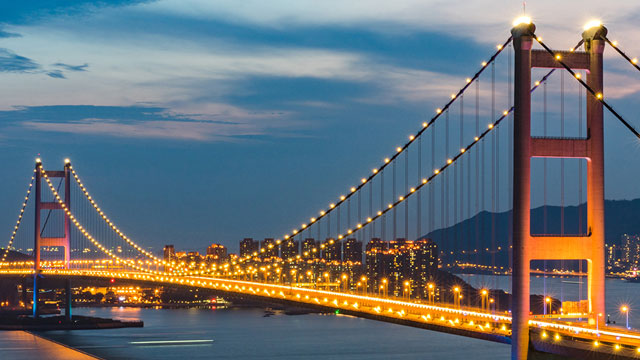 Lantau Link Viewing Platform
One of Hong Kong's most iconic constructions, Tsing Ma Bridge is the longest suspension bridge with both rail and road traffic in the world. You can enjoy spectacular views from the Lantau Link Viewing Platform, including unforgettable sunsets
From Inspiration Lake, take bus R8 to Disneyland Station and then take the MTR to Tsing Yi Station, Exit A1. Use minibus 308M to travel to the Lantau Link Visitors Centre.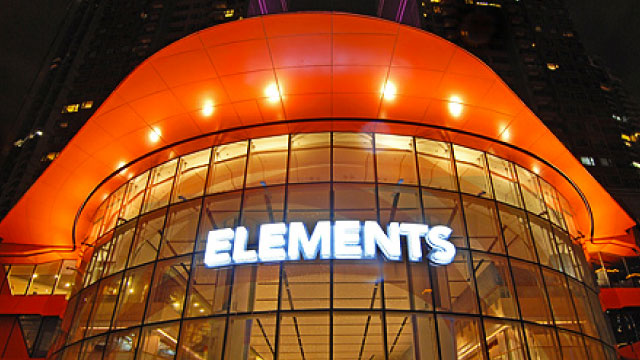 ELEMENTS
To conclude the perfect day, how about a wonderful movie? Combining a state-of-the-art cinema with superlative services, PREMIERE CINEMAS will inspire and delight you. Its 12 theatres screen a variety of blockbusters as well as a diverse selection of the latest internationally renowned films and programmes from all over the world.
From Lantau Link, take minibus 308M to Tsing Yi Station, and then take the MTR to Kowloon Station.